Shopping For FHA Approved Lenders with Confidence
When applying for a FHA home loan, a prospective home buyer must first shop for a FHA approved lender. The FHA, or the Federal Housing Administration, has a list of approved lenders in every region across the United States that provides FHA approved home loans, and in order to get a FHA home loan, a person must go through an approved lender.
The website for the U.S. Department of Housing and Urban Development, or HUD, will typically have an easy to navigate list of approved FHA lenders for each area. HUD will authorize or approve certain lenders across different regions of the United States to originate government insured mortgages. When shopping for an ideal FHA approved lender, the process is similar to shopping for any lender, and finding the best FHA home loan will take some research of different lenders and their individual terms and conditions.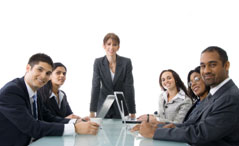 FHA Lenders Provide Helpful Advice
HUD revised the FHA lending spectrum with new FHA requirements for Approved FHA lenders and revised FHA guidelines for borrowers looking to refinance or buy residential properties in the United States. FHA Lenders were issued a temporary increase for mortgage limits in high cost areas.
FHA Lenders were required to have a higher net worth and an increased capital reserves
FHA introduced new appraisal requirements for FHA loans
Down-Payments for FHA Home Buying Increased to 3.5%
No Financed Fees on FHA Streamline Programs
FHA Mortgage Lenders raised credit score requirements to a 500 Fico
Some lenders will offer some incentives like no lenders fees or covering closing costs, but these advantages will often come with some sort of a price. FHA mortgages that cover closing costs will allow a person to pay very little out of pocket to close on their home while they subsequently have higher interest rates over time. These lenders are perfect for those who are looking to close on their home quickly and don't mind paying the eventual amount of the closing costs over time, but they may not be recommended for those who can afford to pay more right away to close on a desired home.
Also, FHA approved lenders that cover lender's fees will follow the same rule; they will offer to cover these fees at the expense of a higher interest rate on the loan over time. This higher rate is not typically very expensive and will normally be around a percentage point or so higher than the rate would be if the fees are not covered, but it does provide an ideal option for those looking to spend less to close right away.
Finding the best FHA lender will often take some shopping around to ensure that an individual has found the best loan for their situation, and shopping for the perfect loan is normally not a difficult endeavor. When shopping for one of these loans, it is best that any prospective home buyer weigh out exactly what they want from their mortgage and find the lender that will offer a loan to best fit their needs.